EXECUTIVE CHARTER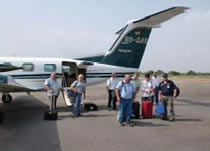 Gianair Ltd provides Executive charter for private and corporate user. We fly to local destinations and various destinations in Africa.
You cut out the hassle of travel agents, the worry of delayed flights and the waiting time at Airports. For a pleasure trip or for the busy business people who just want to make a quick return business trip, it is the most ideal option. Upon prior arrangements, we will pick you and send you back to your accommodation/hotel.
Fly safely in comfort at a speed of a jet at half cost.
AIR CARGO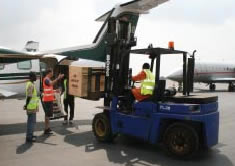 Gianair Ltd provides first class air cargo express up to one (1) tonne (1000kg). This will be most beneficial to those who require packages urgently and also those who wish to send special cargo to arrive on time and in perfect condition. 
MEDICAL EVACUATION
Gianair Ltd, ensuring the highest standards, has chosen West African Rescue Association (WARA) as their strategic partner for all Air Ambulance Operations. WARA is the leading emergency medical service provider in the West African Region with years of experience providing both air and ground ambulance missions and clinical services. WARA provides the inbuilt medical interior stretcher unit, full advanced life support equipment, and an experienced doctor/paramedic combination on all flights.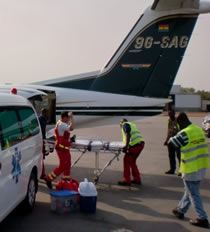 Please contact WARA for more details booking on:
Tel No: +233-030 278 1258
Fax No: +233-030 278 1259
Email: This email address is being protected from spambots. You need JavaScript enabled to view it.
Website: www.westafrican-rescue.com
24/7 Service Number: +233-243 666 111